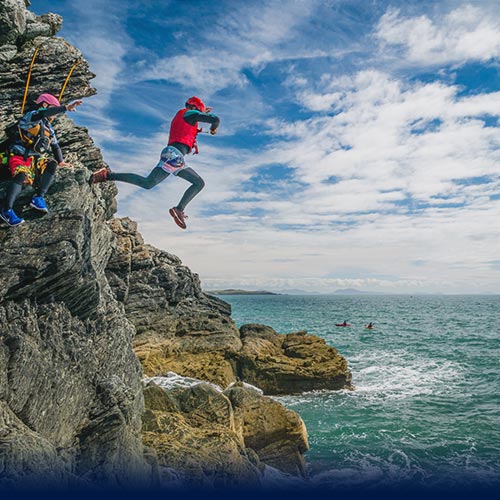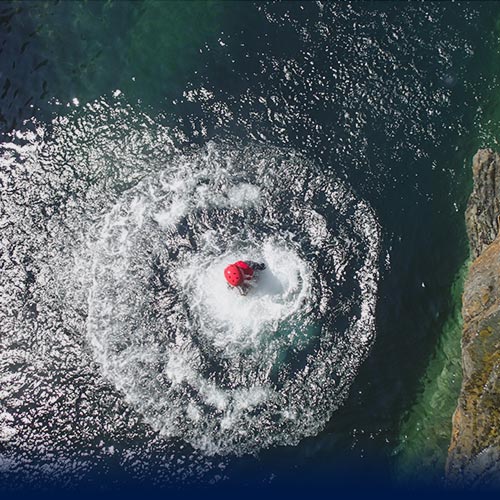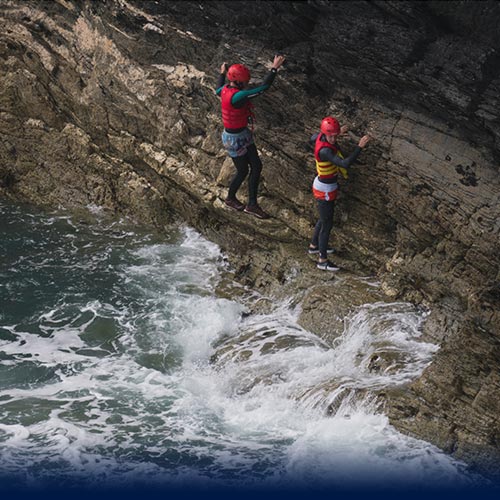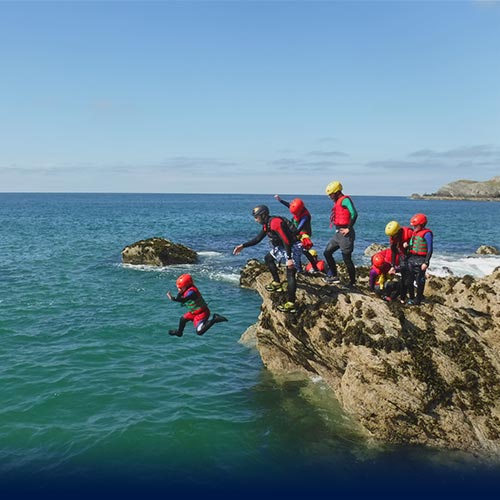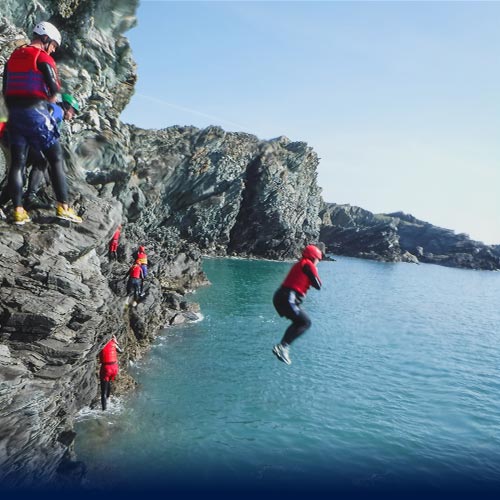 A combination of the best of rock and water based activities, Coasteering offers an exhilarating and adrenaline packed day and, arguably, the coolest way to experience Anglesey's incredible coastline.
Guided by one of our highly qualified instructors, you'll make your way around the stunning sea cliffs, scramble across the barnacle-covered rocks and explore the bio-diverse sea caves. Then, in an impressive feat of mind over matter, you'll leap into the sea below. Here, spurred on by the adrenaline and excitement surging through you, you'll swim to the next cliff, taking on swirling pools, yawns in the cliffs and higher and higher jumps.

Coasteering with Anglesey Outdoors is both a challenge and a thrill and is sure to be the highlight of your trip.
*All activities are subject to weather conditions.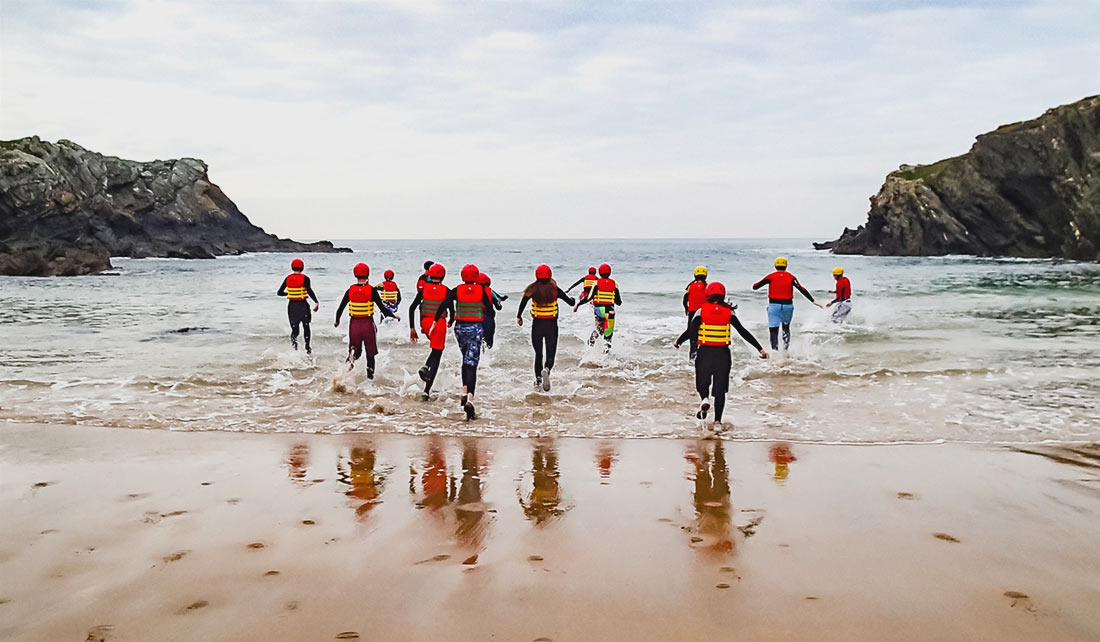 | | | |
| --- | --- | --- |
| | | |
| | | |
| --- | --- | --- |
| | | |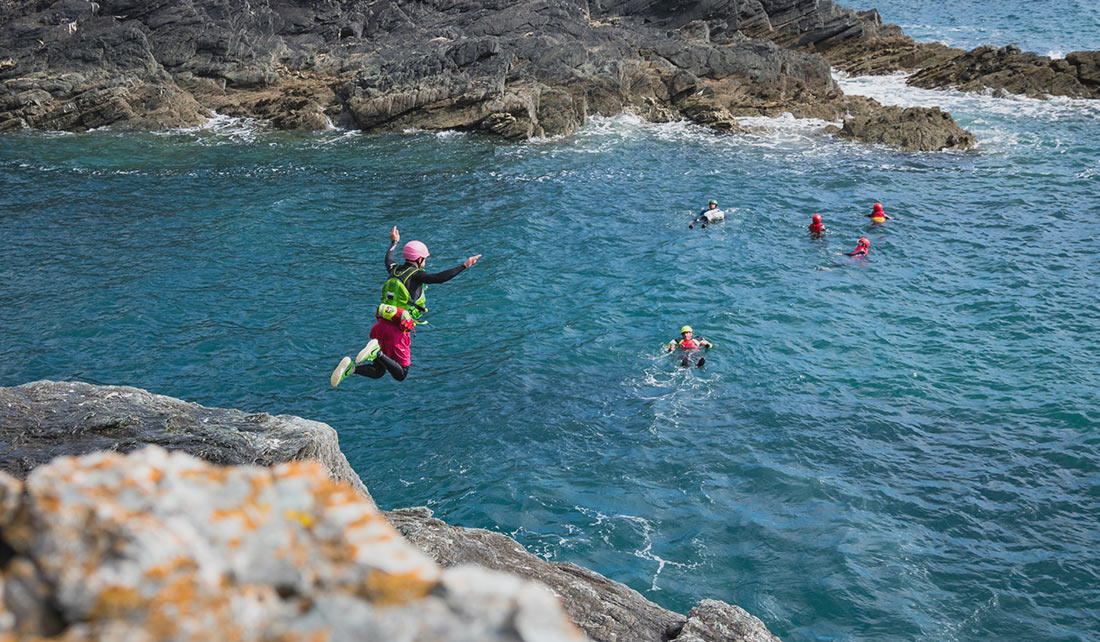 | | | |
| --- | --- | --- |
| | | |
| | | |
| --- | --- | --- |
| | | |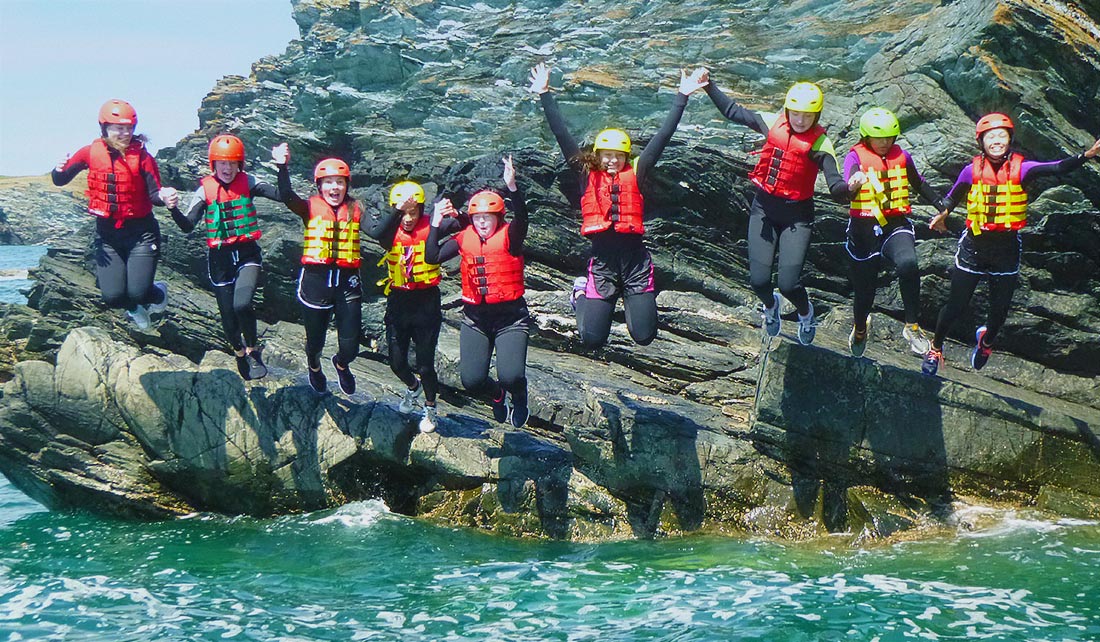 5 out of 5
"best experiences ever"
We had an amazing experience with Greg who was passionate and professional throughout in his delivery, he made it fun and exciting. Greg also had an in-depth knowledge of sea creatures and what the dangers were, this was one of the best experiences ever all thanks to Greg, a credit to Anglesey Outdoors.
Reviewed by (anonymous) - 2017
5 out of 5
"forever memorable and fascinating"
Our instructor's knowledge and understanding of the ocean and its creatures made it a forever memorable and fascinating afternoon.
Reviewed by (anonymous) - 2017
5 out of 5
"Enjoyed the whole experience"
Enjoyed the whole experience but particularly the way in which all members of the party were treated by our two leaders.
Reviewed by (anonymous) - 2017
5 out of 5
"We were impressed"
We were impressed with the level of tutor passion & experience for activity along with embracing elements in an exciting & constructive manner. Also, our instructor's awareness & local knowledge of sea life was unsurpassed.
Reviewed by (anonymous) - 2017
5 out of 5
"enjoyed every minute of it"
Beautiful day with beautiful weather. Amazing location and enjoyed every minute of it. The students loved it!!!
Reviewed by (anonymous) - 2017
5 out of 5
"options for people with different abilities"
I appreciated that there were options for people with different abilities and that there were routes for people varying in difficulty.
Reviewed by (anonymous) - 2017
5 out of 5
"really enjoyed all of it"
It was brilliant both myself and my daughter really enjoyed all of it but jumping from the rocks was particularly good fun!
Reviewed by (anonymous) - 2017
5 out of 5
"patient and professional"
This is the second time we are using Anglesey outdoors. Our group had young kids and the instructors were patient and professional and guided us safely. Thanks for the wonderful experience.
Reviewed by (anonymous) - 2017
5 out of 5
"instructors were great"
Our instructors were great and pitched the activity and pace just right for such a mixed group.
Reviewed by (anonymous) - 2017
5 out of 5
"Great friendly experience"
Great friendly experience. We appreciated the opportunity to "explore" parts of my home coastline that I had not previously visited.
Reviewed by (anonymous) - 2017
5 out of 5
"My daughter... wants to know when we are going again!"
Well organized trip. The less confident in the group were helped and encouraged and there was always an alternative route to be taken. My daughter is still buzzing and wants to know when we are going again! Proud dad! Thanks again.
Reviewed by (anonymous) - 2017
5 out of 5
"Staff were brilliant"
Staff were brilliant and engaged well with our boys. They made the trip really exciting.
Reviewed by (anonymous) - 2017
5 out of 5
"It was great fun"
We were made to feel special. It was great fun.
Reviewed by (anonymous) - 2017
5 out of 5
"top drawer"
Offering a family discount is a great idea-it made the difference in choosing you over your competitors. We had a great day, your instructors were top drawer keep up the good work!
Reviewed by (anonymous) - 2017
5 out of 5
"see you all next year!!!!"
We had an amazing time, cannot put into words how fantastic this place is...see you all next year!!!!
Reviewed by (anonymous) - 2017
5 out of 5
"would definitely do this again!!!"
Friendly instructors very informative would definitely do this again!!!
Reviewed by (anonymous) - 2017
5 out of 5
"such a nice little bay"
It was nice that such a nice little bay is right next to the site.
Reviewed by (anonymous) - 2017
5 out of 5
"huge adrenaline rush"
Coasteering was my favourite activity. It pushed my fear to the point where there was just this huge adrenaline rush before I jumped. There was no pressure at all to do the big jumps you could jump from high up or from lower down, you always had the opportunity to do so. I really enjoyed my stay and would definitely stay again.
Reviewed by (anonymous) - 2017
5 out of 5
"bringing more groups here in the future"
We will be bringing more groups here in the future, cannot believe we did not know about it before hand! Fantastic place.
Reviewed by (anonymous) - 2017
5 out of 5
"exciting, fun and interesting"
Greg is very experienced and professional. He is also very personable with a good sense of humour and my children and I very quickly had full trust in Greg and in the activities which were exciting, fun and interesting.
Reviewed by (anonymous) - 2017
5 out of 5
"I definitely would recommend this place"
Very good fun, I overcame several challenges including: jumping into the open sea, swimming in the open sea, and climbing along high rocks/cliffs etc. Although I didn't complete coasteering, I was delighted that I had managed to get as far as I did. I definitely would recommend this place to other people. The campsite was very nice too. This place I would say has either been my best or at least my second best all time Scout Camp I've ever been on. Thanks to all the instructors who helped me and encouraged me to do my best.
Reviewed by (anonymous) - 2017
COASTEERING BOOKING & PRICING
Book your coasteering online today!
We have two options for booking with us:
Rock up and Go!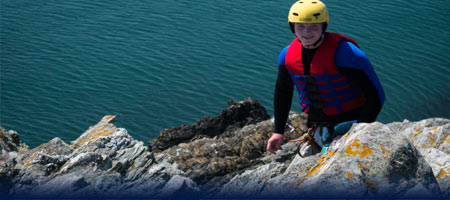 To see what sessions are running, check the schedule below and select the session and date that you're interested in.
Ideal for individuals, families or small groups.
Sessions programmed in advance for holidays and key dates.
Join in with others and make friends.
Book online quickly and easily.
All specialist equipment is provided.
Coasteering and kayaking are run regularly, other activities are run on demand if at least 4 people want to partake (subject to availability). Contact us to request an activity not on our schedule or consider the private booking option for a bespoke activity just for your group.
Price per session:
| | |
| --- | --- |
| | Half Day |
| Child | £30 |
| Adult (16 or over) | £45 |
| Family (2 adult + 2 under 16) | £125 |
Private Sessions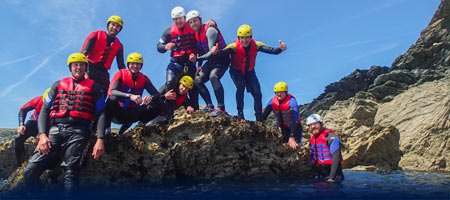 Our private sessions are organised just for you and your group.
Perfect for groups who want the personal touch.
Sessions run when you want them, year round.
Just your group on your tailored session.
Ideal choice for parties, stag/hen doos, corporate events etc.
Sessions be can half days through to multi day adventure packages.
Why not combine our accommodation options with activities for a package holiday just as you want it?
Special rates for schools, scout groups and other charitable/philanthropic organisations, contact us for details.
Prices per session start at:
Half Day
(Inc discount)
Full Day
(Inc discount)
Private (up to 8)
£250
£350
Private (up to 12)
£350
£475
BOOKING INFO - CLICK TO VIEW
We can run a session for you year-round subject to the weather and conditions.
Contact us to make a booking or complete the enquiry form at the bottom of this page. Include the date, the activities you are interested in and for how many people, and we will do the rest!

Prices for a group up to 8 in size are: £250 for a half day, or £350 for a full day (either a long activity or two shorter ones) For a group of up to 12 it's £350 per half day and £475 for a full day, we provide two staff for more than 8 people to keep up superb ratios.

Booking in advance is essential!
GENRAL BOOKING INFO - OPEN / CLOSE
All prices include VAT at 20%
SO IT'S A WET ACTIVITY?
Oh yes! The wettest of them all. But fear not, we will kit you out with winter weight wetsuits, even in the summer. This means you'll be nice and toasty in and out of the water and the cold won't get in the way of having a brilliant time.
DO I HAVE TO JUMP FROM HIGH?
Nope, the great thing about Coasteering is that it's challenge by choice. Most of the time you can swim past a challenge if it's not for you, though you'll have more fun giving things a go!
WHAT IF THERE ARE BIG WAVES?
Some waves make it extra fun and add another element of challenge to the activity. If the sea gets too wild though we have a few options, we might go to another location that offers some shelter from the waves, or if it's that wild we can't do it we would make use of the big waves and go Boady Boarding, or do another activity of your choice. It's pretty rare that we can't coasteer though, especially in the summer months.
WHY CHOOSE ANGLESEY OUTDOORS?
We are situated only a 5 min walk from one of the top coasteering spots in the country, and we're no more than a 5 minute drive away from a wide range of different spots for all abilities. Our staff know this coastline really well, so you'll get to do all the best bits! We use highly experienced staff, trained in a multitude of activities, they're great fun, knowledgeable and really care about your safety. We will have waterproof cameras with us on activity, so we can capture all the action, and share it with you online. And to top it off, on your return you can get right into a hot shower and grab a drink or food at our on-site bar.
DISTANCE TO ACTIVITY LOCATION?
Our 'local' spot is a 5-minute walk away from the centre, meaning we can kit up at the centre then walk down there, and walk back once were done straight into the hot showers. If the sea or weather looks favorable in other spots we may travel a little further, no more than 10 minutes though generally.
WHAT DO I NEED TO BRING?
We will provide you with a super warm winter wetsuit to keep you warm, a buoyancy aid, helmet and on a windy day a cagoule.

You would need to bring:
Shoes. These will obviously get wet. They need to be stiff soled and you need to be able to swim in them without them coming off! Stiff soles are really important as the sea cliffs are knobbly and you don't want to feel all the knobbles through the sole of your shoe, so it needs to be robust. Jelly shoes, pumps, wetsuit boots and other floppy shoes are not suitable at all. Astroturf shoes are really slippery on wet rock so avoid them too. Your best bet is a good robust trainer shoe.
Long socks, the wetsuits will come down to your ankles, and there will usually be a gap between your shoe and the wetsuit, leaving ankles exposed. So you need to wear a long pair of socks to cover this area.
Baggy shorts to cover the wetsuit. You might look a bit like superman but when people move about with their bum on the rough rocks, our wetsuits get trashed, so we cover this area with shorts to save the kit. So don't wear your very best ones.
Swimsuit. Wetsuits are worn next to skin, and definitely work best like this. You should only wear your swimming costume underneath, be it trunks, bikini or swimming costume. (Baggy shorts under a wetsuit aren't ideal)
Towel. If we go local, you'll need this once you've showered. If we travel in the car you'll need a towel to get changed at the end. For outdoor changing bigger towels are better to cover up with.
Spare clothes for afterwards (if you arrive in swimming costumes, underwear etc).
Sun cream and any medication you would usually carry.
WHEN DO YOU GO COASTEERING?
We offer Coasteering from April to November. We can do it outside of these times too but of course it will be much colder. We do give everyone full winter weight wetsuits year round (that's why we have a longer season than a lot of providers), but in the depths of winter there is a limit.... The sea tends to warm up throughout our operating season. Because we don't coasteer in stormy and wavy conditions, May to September are usually the best months.
DURATION OF ACTIVITY?
Because of how close to the sea we are we tend to run these as half day sessions, which are 3 and a half hours long, which is plenty of time for a great session, any travel and changing. If you wanted a full day what we would do is the first half of the day sea level traversing and then finish the day with Coasteering.
HOW MANY CAN PARTICIPATE?
Groups of 8 is what we work with. If we go for more than this, then we would get a second instructor. We run regular open sessions where you can sign up and participate with other likeminded people. Or if you prefer you can book private sessions which are great for family and friend groups.
IS IT SAFE?
Like all adventure activities, there is always an element of risk, otherwise it wouldn't be an adventure activity! By being accompanied by our highly experienced instructors, they will know how to manage these risks letting you get the most out of the session without compromising your safety. You'll be kitted up in good safety equipment, and the experience of your instructor will allow them to choose a suitable venue for the day. We are AALA licensed, meaning we meet and exceed very high standards of safety for adventurous activities.
WHO CAN GO COASTEERING?
Coasteering is suitable for most reasonably fit people who are happy to be in and around water. Swimming ability isn't crucial, as your in a wetsuit and a buoyancy aid which means you'll float no problem. There is nearly always an easier way around the challenges, so it is very much challenge by choice. We have had some super star 8 year olds coasteering with us, who have loved it, generally we would advise children aged 10 and older. For children aged 8 to 12 please choose "Family Coasteering" in the Shedule below as these sessions are tailored to younger children.
TERMS & CONDITIONS
Please read through our Terms & Conditions
HOW TO BOOK YOUR COASTEERING ADVENTURE
Follow the button to check availability / pricing or book your place on Coasteering today!
If you are looking to give someone an unforgettable experience we also offer Gift Vouchers. This means that you can not only book today, for activities in the coming season, but also buy an unforgettable treat for someone special which can be used at their chosen date.
Gift vouchers can be used when booking an activity listed on our on-line booking system, or they can be applied to a private activity booking by calling/emailing us with the unique voucher number.

Please note! That the activities offered through our on-line booking system are mostly limited to Coasteering and Kayaking, with some other activities offered occasionally, based on sufficient demand.

(Our vouchers are valid for one year from the issue date)

Alternatively, contact us for more info.
Send an e-mail
Any questions...
This website follows a standard privacy and cookie policy